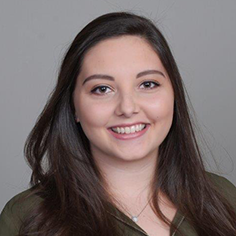 Brooke Brush
Travel Expert
About Me
Hi there! My name is Brooke and I am a Travel Consultant in the Levittown location on Long Island. My favorite destination to plan is Hawaii, although I also love cruises, the Caribbean and Australia. I owe my travel bug infection to my high school Spanish teacher. He was the first person to show me the world is much bigger than Long Island. Ever since those classes, all cared about was studying abroad, experiencing new cultures, and seeing what the world has to offer. Everyone around me had dreams of being nurses and teachers, and all I wanted to do was see the world. When it came time to look at jobs, I came across Liberty Travel and realized I can make my career revolve around the one thing that I ever cared about- travel! I am super grateful for my job and how much of the world it has allowed me to experience.
If I could live anywhere in the world, it would most definitely be Hawaii! I'm a huge fan of Hawaii Five-0 and I've always thought about living there since seeing the show. It just seems like the most laid back, relaxing, and easy way of life. The tourism industry is awesome there, the weather is perfect, food is amazing, and it is the one place in America where there is a true long history of culture that is so interesting and unique to everywhere else in the USA. I know when I do get there one day- I might not come back!!
Three things I can't travel without no matter what type of vacation it is- Backpack, sneakers, and camera. These are three essentials that can get you all around the world. My favorite packing tips are to always put a change of clothes in your carry on and bring a handheld luggage scale. There is nothing worse than being the person an airport counter opening their giant suitcase while people are waiting behind you or having to pull out a change of clothes in a hotel lobby.
My Recommended Destinations