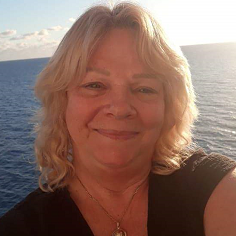 Susie Wright
Independent Affiliate
About Me
My team and I love assisting guests in creating travel memories that last a lifetime. I worked on board cruise ships for six years, I was married on a cruise ship, and have many years of worldwide travel experience to assist you with your travel plans.
My team and I received the Top Cruise Sales Award in 2022-2023 from Independent by Liberty Travel. We were also recognized for outstanding tour sales from the Globus Family of Brands.
Ewelina Cieslar, Michele Weiss and I have a combined 80+ years of experience.
We provide excellent service and can't wait to make your travel Dreams come true, we are the Dream Team!
Places I've Been
Alaska, Antigua, Argentina, Aruba, Austria, Bahamas, Barbados, Bermuda, Boston, Brazil, California, Canada, Cayman Islands, Chicago, Colorado, Croatia, Curacao, Denmark, District of Columbia, Dominican Republic, Egypt, Finland, Florida, Fort Lauderdale, France, Georgia, Germany, Greece, Hawaii, Honduras, Hong Kong, Hungary, Illinois, India, Indiana, Indonesia, Israel, Italy, Jamaica, Kauai, Kentucky, Key West, Las Vegas, Los Angeles, Maine, Malta, Massachusetts, Maui, Mexico, Miami, Michigan, Minnesota, Missouri, Morocco, Nashville, Netherlands, Nevada, New Jersey, New Mexico, New York, New York City, North Carolina, Norway, Oahu, Ohio, Orlando, Panama, Pennsylvania, Philadelphia, Philippines, Portugal, Puerto Rico, Romania, San Diego, San Francisco, Singapore, South Africa, South Dakota, Spain, St. Lucia, St. Maarten-St. Martin, Switzerland, Tennessee, Texas, The Big Island, Trinidad & Tobago, Turkey, Turks & Caicos, US Virgin Islands, United Kingdom, United States, Walt Disney World® Resort, Washington, Washington, D.C., Wisconsin